By-law plan to remove Parliament Square tent protest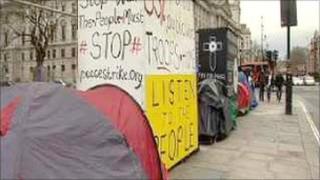 Westminster City Council has said it intends to introduce a by-law to remove tents from Parliament Square.
The Tory-led council said it expects the new legislation to be agreed at a sub-committee on Wednesday.
If passed, the by-law would mean protesters could face a fine of up to £500 if they do not remove their tents.
Campaigners set up "Democracy Village" on the green in May 2010, but were evicted in July by the Greater London Authority following a High Court order.
But some protesters then pitched up to 30 tents on the pavement next to the lawn, which is controlled by the council.
The council expects the new law to come into effect in March, covering areas including Whitehall, Bridge Street, the Queen Elizabeth II Conference Centre and Westminster Abbey.
Site 'blighted'
Westminster also plans to amend existing rules to allow council officers to seize noise equipment such as loud hailers.
The laws would be enforced by Westminster wardens and police who will direct protesters to remove sleeping equipment.
If the legislation is not complied with the items can be seized or protesters could be fined up to £500.
Councillor Colin Barrow, leader of the council, said: "We have been calling for action for years and now finally we have the ability to do something about it.
"We are not against public protest, but what we are against is people blighting an English Heritage site and preventing the rest of London, and its visitors from enjoying the square."
The move has only been made possible since the Police Reform and Social Responsibility Bill received Royal Assent in September.
The new law has given councils more powers to tackle protests like the Parliament Square camp.