Headteacher James Walker gets Lambeth Council payout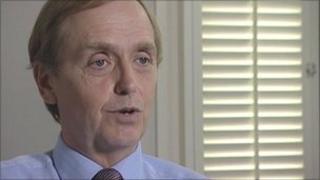 A headteacher who won an unfair dismissal case after quitting a south London school has been given more than £100,000 in compensation.
James Walker resigned from Henry Fawcett Primary School in Kennington in 2010 after claims of bullying and financial mismanagement.
Lambeth Council's investigation was criticised by an employment tribunal.
The council said both parties had "agreed to draw a line under the matter and move forward".
Mr Walker, who was suspended in 2008 after returning to work following six months of chemotherapy, called for action to be taken against those responsible for his ordeal.
Public money 'wasted'
Ahead of the compensation hearing on Friday, he said: "When I returned to work after cancer, instead of getting support I felt victimised.
"Having won my case in August I hoped the wrongful actions of those responsible for damaging my career, wasting public money and needlessly disrupting the education of my former pupils would be thoroughly investigated.
"Three months on there is little evidence of this... no action has been taken against them."
On ruling his dismissal as unfair, the South London Employment Tribunal criticised the council's inquiry into the allegations, saying this "amounted to a fishing exercise which focused on obtaining the most damaging information about the claimant".
Several witnesses put forward by the council were not credible, the tribunal said.
It criticised Penny Bermingham, who was the acting head of the school during Mr Walker's sick leave; Matt Britt, who was the interim headteacher after Mr Walker's suspension; and two senior education officers - Cathy Twist and Claire Cobbold.
Barry Gilhooly, a former assistant director at Lambeth who carried out the investigation into the allegations against Mr Walker, was also criticised by the tribunal which found his investigation was flawed.
They chose not to respond to BBC London's report.
Following the ruling, the council stressed that the action taken against the headteacher was "completely unrelated to his illness".
A spokesman said: "The matter has been complex and difficult and the parties have agreed to draw a line under the matter and move forward.
"The council fully accepts the criticism made in the tribunal judgement and has apologised to Mr Walker."
It added that disciplinary procedures had been reviewed but it would not take action against any individuals.
Simon Hughes, MP for Bermondsey and Old Southwark, said: "I have rarely found a tribunal as willing to condemn as many people, senior people who came before them, for not telling the truth.
"This is not good enough".