Blind man left stranded on Tube platform by staff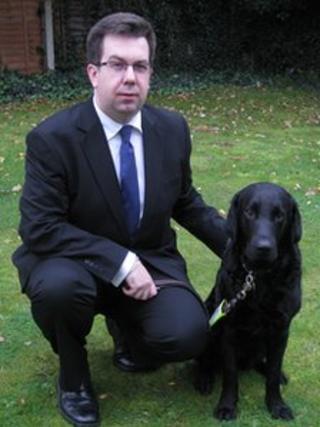 A blind man has complained to Transport for London (TfL) after being left stranded on an Underground platform for 70 minutes.
Alex Turner, 41, who uses a guide dog had requested staff help him on arrival at Victoria station on Wednesday on his commute from work.
But he said that staff admitted they had "forgotten" about him.
TfL said the complaint is being taken very seriously and will be investigated.
'Completely unacceptable'
Mr Turner, who works for the Metropolitan Police and makes the journey five to six days a week between his home in Whyteleafe in Surrey to West Brompton in south-west London, said he felt angry and upset and ended up missing a braille lesson.
He had been seen on to a train at West Brompton station by staff at 13:10 GMT and a request had been forwarded for him to be met on the District Line eastbound platform and taken to his overground platform.
He said: "They left someone standing there who could not see where to go for over an hour.
"If I stuck a blindfold on the station supervisor and said: 'Get on with your life', I'm sure he'd realise how difficult it is."
A spokeswoman for TfL said: "It is completely unacceptable for this to happen."
Mr Turner is registered blind, classified as seriously sight-impaired and can only make out shapes and outlines.
He added that there was "no way to get to ground level without assistance" because the route involves several sets of stairs at different angles and passing through two different gate lines where it is impossible for him to know where to swipe his Oyster Card.
He would also have had to navigate through streams of passing passengers.
He said he waved to train drivers to get attention, stood in front of CCTV cameras and half a dozen members of the public told him they would alert a member of staff.
He added that even if members of the public had offered to help him upstairs, he would not have considered it appropriate as Tube staff have the correct training in how to walk with a guide dog and others do not.
It was 70 minutes before a member of staff approached him asking if he needed help and a supervisor admitted he had been "forgotten" about him after a shift change.
'About being independent'
On 10 October, when Mr Turner was previously left waiting by staff at Victoria, he was punched in the arm by a member of the public.
He complained to TfL on that occasion and asked to meet with a manager about the service.
A spokesman for British Transport Police confirmed that a prosecution could not be made because of a lack of CCTV evidence.
"For me this is all about being independent, going out and having a life," Mr Turner said.
"A lack of function does not mean I should stay inside claiming benefits."
He said he lost his sight last year and added he is studying Braille as a means to get extra independence.
Wayne Trevor, London Underground's accessibility and inclusion manager, said: "We take accessibility on the network very seriously and are working hard to make the Tube easier to use for all of our passengers.
"We are sorry to hear that one of our passengers had a difficult and frustrating journey and we will thoroughly investigate his complaint."