Albert Bridge reopens after two years of repairs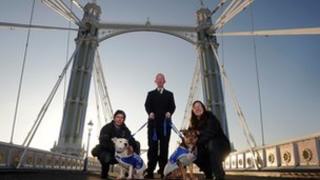 London's Albert Bridge which links Battersea with Chelsea has reopened to traffic after being closed for nearly two years.
The Grade II-listed crossing was shut in February last year for strengthening and repair work.
It caused delays for motorists who had to be re-routed over neighbouring bridges.
The bridge had been due to reopen in September but the damage was found to be worse than originally expected.
'Fragile structure'
The work, costing more than £7m, was paid for by the Royal Borough of Kensington and Chelsea and Transport for London and included strengthening, repairs, repainting and adding new lights.
A total of 40,000 litres of paint were used in the revamp of the bridge, which was built in 1873.
A spokesman for Interserve, which carried out the work, said it was "a fragile cast and wrought iron structure with timber decking, built for horses and carriages".
Nearly six million vehicles crossed the bridge each year before it was closed, according to the council.
Traders in Battersea said that having the bridge re-open before Christmas would help bring back passing trade and improve business.