London 2012: London Overground staff get 25% pay rise Olympics deal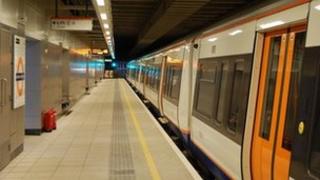 Rail operator London Overground has agreed to pay its staff an extra 25% for working during the 2012 Olympics and Paralympics.
Its deal with rail union RMT means staff who work during the Games will see a minimum pay rise of £650 in 2012.
RMT General Secretary Bob Crow said: "It's a common sense approach in planning ahead for the Games."
London Overground Rail Operations Ltd (LOROL) said the Games would be an "opportunity" for its employees.
London Overground is London's suburban rail network, which consists of the East London Line, the Gospel Oak to Barking Line, the North London Line, the West London Line and the Watford DC Line.
Its North London Line trains terminate in Stratford, east London, close to the Olympic Park.
'Mutual benefit'
The agreement will see additional pay for station, conductor, train care, fleet maintenance and revenue staff, 500 of whom are RMT members.
Mr Crow added: "This agreement quite rightly recognises and rewards the additional efforts and flexibility required of RMT members during the Olympics to benefit passengers on London Overground routes serving the key hub at Stratford.
"The agreement shows the importance of the workforce having a skilled and experienced trade union on their side in negotiating the best deal possible to the mutual benefit of everyone involved."
A spokesman for LOROL, which has a contract with Transport for London (TfL) to run the London Overground network, said: "LOROL views the Olympic Games as an opportunity for all employees to further demonstrate the transformation under way on the London Overground network.
"The deal will allow LOROL to play its part in making Olympic transport a success in 2012."