Barts and the London Hospital surgeons quit over 'dangerous' situation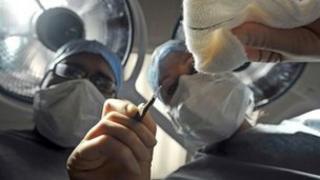 Five surgeons have resigned from a hospital in east London amid claims patients have been "left with life-changing injuries" because of a lack of resources, the BBC has learned.
One of the surgeons at the Royal London Hospital, in Whitechapel, cited a "dangerous" shortage of surgical facilities.
A hospital source said it meant non-urgent operations were often cancelled.
The hospital said it had a good safety record and mortality rate.
But the source said a lack of plastic surgeons, anaesthetists, beds and equipment meant patients with non-life threatening injuries routinely had operations cancelled.
The whistleblower added that patients were left with open wounds for six days while waiting for a slot.
When they were finally operated on, bones often healed badly or infection set in leading to long-term complications, the source added.
One of those who has handed his notice in is orthopaedic surgeon David Goodier.
In a resignation email to colleagues, which was leaked to the BBC and the Guardian newspaper, Dr Goodier wrote: "The supplies situation is dangerous. We are regularly out of kit, out of nurses, and always out of beds.
"We have become so used to this situation it is no longer seen as a crisis, it is the norm."
He continued: "I did an operation last week on a fracture that kept getting bumped by more urgent cases.
"It was three weeks down the line and healed in a bad position. There was nothing I could do for him.
'Guilty of negligence'
"I look patients in the eye and tell them they might sit around for five or even six days of starving for an operation that might get cancelled at the last minute."
He concluded: "I have been complicit in a poor standard of trauma care and am guilty of negligence by association.
"I can no longer stand idly by when patients are at best having their human rights breached, and at worst physically harmed by the care they receive."
The BBC understands staff have been raising concerns about trauma provision for four years.
The resignations, which all happened in recent months, mean almost half the hospital's 12 orthopaedic surgeons have now handed in their notice.
In light of the revelations Barts and the London Trust has invited a team from the Royal College of Surgeons (RCS) to carry out an independent investigation.
In an email obtained by the BBC, Professor Norman Williams, president of the RCS, said there had been an "appalling deterioration" in the quality of care.
He told the BBC: "Clearly there are concerns about the care some patients are receiving, particularly on the emergency surgical side.
"It worries me and it would worry any caring surgeon.
"That is why we suggested an external review."
He added: "I have to say the consultants there are extremely dedicated."
'Left to fester'
A medical professional currently working at the hospital said infection rates on complicated leg operations were between 70% to 80% instead of the expected 30% to 40%.
He said: "They simply don't fund enough theatre sessions.
"Patients get fantastic treatment for the first few hours - but then they are left to fester with an open wound. This can go on for weeks."
The source continued: "When we finally get into theatre the wounds are mucky looking.
"It means there is a risk of losing the whole leg."
He concluded: "Can I say that people have died because of this? No.
"Can I say that people have been left with worse outcomes that have affected their whole lives? Definitely."
The source explained the delays meant bones frequently became infected.
Bone infections are hard to treat because low blood supply prevents antibiotics from curing them.
The source said this had left patients with long-term pain, discharge, and impaired walking.
Another medical professional at the hospital said: "When we've raised our concerns, we are seen as the enemy - they [management] are a bunch of bully boys.
"Dangerous things are happening but they don't care.
"They just say look at the spreadsheet - it's all about the money."
The emergency trauma care department is about to move to a new building - but the source said systemic flaws would remain and he expected "disaster".
The whistleblowers cite the lack of plastic surgeons as an example of the shortcomings.
The hospital typically has five plastic surgeons - whereas the sources said they needed 12.
Barts and the London said it had "one of the best clinical safety records in the NHS and the second lowest mortality rate in England".
A spokesman said: "We have taken this as an opportunity to expand our orthopaedic service and not just replace individuals.
"We are attracting high calibre surgeons.
"Next week we start our move into our new hospital which has 25% more emergency theatre capacity."
He continued: "In April 2012 we increase our critical care provision by 25%.
"The concerns raised around the availability of surgical instruments have been addressed and significant improvements made."