Victorian Society opposes Minerva's London Stone move bid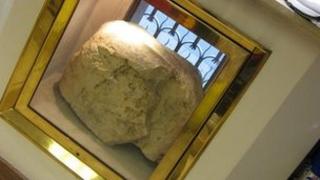 A history society has urged the City of London not to allow a limestone relic dating back to the Middle Ages to be moved.
Property company Minerva wants to relocate the London Stone "a matter of yards" west along Cannon Street from its current position at number 111.
It said it wanted to make it easier for tourists to see the relic, which was mentioned by William Shakespeare.
The Victorian Society has said it "strongly opposes" the idea.
The London Stone currently sits behind a Victorian grille abutting a building.
It has been in the city since at least the Middle Ages and was also mentioned by William Blake and Charles Dickens.
Minerva, which previously owned the building adjacent to the stone, said it had the rights to the relic.
A spokesman said the move would "facilitate viewing" since it was currently below ground level and obscured by the grille.
Tim Garnham, group development director at Minerva, said: "It will be safely positioned within a glass enclosure along the Cannon Street facade at the approximate height that it originally stood before it was moved in the 19th Century and then again in the 1960s."
But the Victorian Society, which campaigns for the protection of historic buildings and landscapes, has written to the City of London saying the plan is motivated by the redevelopment of the building behind the stone.
Chris Costelloe, conservation adviser for the Victorian Society said: "The stone is a tangible and permanent part of the streetscape, not a portable exhibit to be moved inside a building and displayed using lighting and mirrors."
He added: "The redevelopment of 111 Cannon Street should be an opportunity to bring it back to prominence as part of an imaginative design for the site, with the London Stone as its centrepiece."
A City of London spokeswoman said: "A decision will be made pending discussions with the applicants.
"The letter from the Victorian Society will be taken into account in making the decision."