Campaign to secure home for Nelson's Ship in a Bottle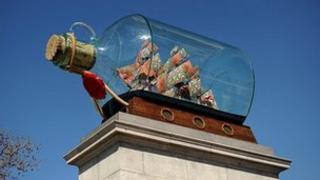 A campaign has been launched to secure a permanent home in London for the current artwork on Trafalgar Square's Fourth Plinth.
The Art Fund is working to make Nelson's Ship in a Bottle a free-to-view exhibit outside the National Maritime Museum in Greenwich.
The public is being asked to help raise £362,500 to pay the artist Yinka Shonibare's studio fee.
The artwork will be removed in January after a 18-month stint on the plinth.
Nelson's Ship in a Bottle was commissioned by the mayor of London and unveiled as the new occupant of the Fourth Plinth in May 2010.
Freely accessible
The Art Fund, which helps UK museums and galleries acquire and display great works of art, has contributed £50,000 to the campaign.
Together with the National Maritime Museum it is appealing for people to donate the remainder of the money required so the ship can become part of the museum's collection.
Under the plans the artwork would stand outside the new Sammy Ofer Wing where it would be freely accessible to all.
Stephen Deuchar, Art Fund director, said the piece had "delighted millions of people in the last year-and-a-half and in a new permanent site outside the National Maritime Museum will continue to do so for many years to come".
Kevin Fewster, from the National Maritime Museum, said: "We feel that Greenwich would be the perfect home for this outstanding piece of work, which chimes so brilliantly with the stories we tell through our museum's unique collections."
Artist Yinka Shonibare said the location and the National Maritime Museum collection were the perfect future home for this work.
His work is a scaled down direct replica of HMS Victory, the ship captained by Nelson.
The 2.35m (7.7ft) high ship inside a specially-made glass bottle is a 1:29 scale replica of the original vessel.