Northern Line: Government backs Tube extension plan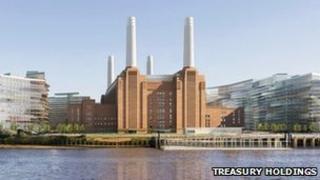 Chancellor George Osborne has backed plans to extend the Northern Line to Battersea in south London, which he says could create 25,000 jobs.
In his Autumn Statement he said the government would support the scheme, in partnership with the private sector.
He said they would work with London's mayor on options for new Thames river crossings, for example at Silvertown.
Ways to maintain the UK's aviation hub status, excluding a third runway at Heathrow, would be explored, he said.
The Northern Line extension, at Vauxhall and Nine Elms in south London, was one of several infrastructure projects given the government's backing in a bid to get Britain's economy moving.
But a spokesman for Labour's London Mayoral candidate Ken Livingstone said: "The Northern Line extension is an aspiration which the government will 'consider'. It is not in Boris Johnson's words a 'promise' or commitment."
However, Mr Johnson said: "This huge commitment to London is fantastic news that will significantly boost jobs and growth, keep the capital moving during the downturn and help us address the capacity issues that are critical to it remaining globally competitive."
Fare rise capped
Last year the Mayor of London Boris Johnson gave his approval to build two Tube stations on the Northern Line as part of a £5.5bn revamp of Battersea Power Station.
It is hoped the redevelopment of Battersea Power Station, which will include shops, office space and leisure facilities, will create 25,000 jobs and the construction of 16,000 homes.
On Tuesday the chancellor also confirmed London Tube and bus fare rises would be capped at 6% in 2012.
Before his announcement, regulated fares, which include season tickets, had been due to rise by an average of 7% in January.
But Mr Osborne said this was "too much" and limited the increase to RPI plus 1%.
It was also confirmed £80m would be provided to support the Southern Rail purchase of 130 new carriages to operate in south London.
Meanwhile, the Mayor's office confirmed that the Oystercard system, which is used as a form of payment for travel fares across the capital, would be extended outside London to cover more of the south east of England's transport network.