Richmond Council removes CCTV parking penalty cars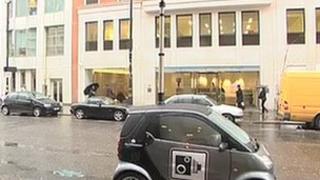 Four CCTV camera cars which were involved in more than 18,500 wrongly-issued parking fines being handed out have been removed by Richmond Council.
The decision to remove the cars was taken at a meeting on Thursday.
In July, the south-west London council agreed to pay out about £1m in wrongly issued penalty charge notices issued between April 2009 and April 2011.
The council said it had told parking management company Vinci Park not to use the CCTV cars.
The cars were employed under the Liberal Democrat administration which lost last year's local election to the Conservatives.
The leader of the council Lord True said he was "glad to see the back of the cars".
He said: "These CCTV cars have been a menace to people for years.
"Councils should not be in the business of 'trap now, talk later'. Many people see them to be an arbitrary and impersonal way of dealing with parking issues.
"The tactics used create the impression that councils are interested only in money."
Parking enforcement officers will now interact with motorists rather than monitoring them from a "spy car".
The council was left having to pay back many of the fines issued as a result of the CCTV cars when a tribunal found the notices were unlawful as the cameras were incorrectly licensed.
'Overjoyed' by decision
The independent Parking Tribunal Service made its ruling after motorist, Nigel Wise, appealed against his penalty charge.
Mr Wise is now helping with appeals against the use of CCTV cars in several boroughs across the country, including Westminster and Bexley in London.
Mr Wise, 59, said he was "overjoyed" with Richmond's decision.
He added the use of CCTV cars in Richmond had "crucified" businesses and left people "scared to park".