Speed limit of 20mph agreed for roads across Islington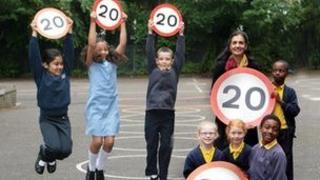 About 20 main roads in Islington, north London, will become 20mph zones after the council agreed the move.
The cut from 30mph to 20mph was given the go ahead at a meeting. Next year it will go to public consultation.
The council said the speed limit cut was aimed at reducing serious accidents involving pedestrians, cyclists and motorcyclists.
The Metropolitan Police said it would not increase patrols to enforce the limit, though.
Paul Convery, Islington Council's member for transport, said: "Adopting 20mph on our main roads is a bold step, but there has been strong local support and we are taking a firm lead.
"We hope and believe drivers will understand what we are setting out to achieve."