Aston Villa's Darren Bent 'entitled to hire Aston Martin'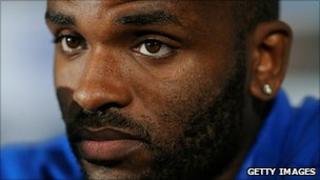 Football star Darren Bent was entitled to hire an Aston Martin at a cost of more than £600 a day after his car was damaged in a crash, judges have ruled.
Insurers argued the Aston Villa and England striker should have found a cheaper option after the crash in 2007.
But three appeal judges concluded the 27-year-old was entitled to recover the cost of hiring the Aston Martin DB9 at a daily rate of £573.28 plus VAT.
Bent hired the car for about three months after the crash in south London.
'Broadly equivalent' car
A van came out of a side road and hit Bent's £72,000 Mercedes AMG CLS 63R, causing about £20,000 worth of damage, in the accident in Greenwich.
The van owner's insurers accepted Bent was entitled to hire a "broadly equivalent" car while his was being mended.
But they pointed out the Aston Martin was worth £105,000 more than Bent's car and the total hire costs added up to nearly as much as his car was worth.
Lord Justice Pill, Lord Justice Moore-Bick and Lord Justice Aikens, hearing the case that started in a county court, ruled in Bent's favour after a hearing in London.
The judges heard Bent had also owned a 4x4 left-hand drive Cadillac at the time of the accident.