London riots: IPCC responds to recent Duggan press reports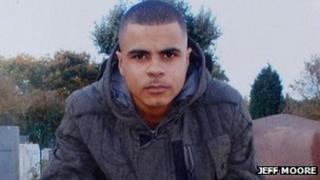 The police watchdog has said it was "disappointing" members of a panel set up to oversee its inquiry into Mark Duggan's shooting recently quit.
Two members of a community panel set up to oversee the Independent Police Complaints Commission (IPCC's) inquiry left in the past week.
One of them, Stafford Scott, said he had concerns over the temporary removal of a minicab from the shooting scene.
The IPCC said the car was not removed without its inspectors knowledge.
Mr Duggan was shot dead by police in Tottenham, north London, in August.
Rioting in the area followed, with the unrest spreading across London and to other parts of England.
The IPCC set up an investigation into the shooting.
'Totally untrue'
In the past week, Mr Scott and John Noblemunn stepped down from the panel. The third member, Pastor Nims Obunge, has not resigned.
Mr Scott claimed the minicab in which Mr Duggan had been travelling before being shot was removed from the scene before IPCC investigators arrived, and later returned to the scene.
He said, three months into the investigation, he was told the IPCC sanctioned the decision to remove the vehicle.
"That really goes to the heart as to whether or not this organisation is truly independent," he said.
The IPCC said: "It has been suggested that the taxicab Mark Duggan was travelling in was removed from the scene of the shooting before IPCC investigators arrived. This is totally untrue."
The watchdog added: "Whilst it is of course disappointing that two members of the community reference group have chosen to resign, we continue to work with the community and are in consultation with other community representatives to ensure the group continues and is fit for purpose."
'Unusual step'
IPCC chairman Len Jackson said: "I am taking the highly unusual step of clarifying inaccurate, misleading and more importantly - irresponsible comment that has appeared in recent days in relation to the IPCC investigation into the circumstances surrounding the death of Mark Duggan."
"I am doing so because, if these inaccuracies continue to gain currency, they risk undermining the integrity of and public confidence in our investigation."
The watchdog added "a misleading headline citing that Mr Duggan was "unarmed" is subject to a Press Complaints Commission complaint."
"A non-police issue firearm recovered at the scene remains subject to ongoing forensic testing and remains a key part of the IPCC investigation," it said.