Child cancer treatment in London 'fragmented'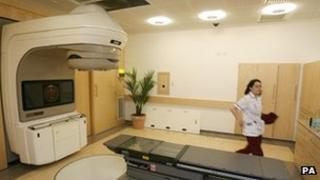 A review into treatment for children with cancer prompted by the death of a child with leukaemia found services may have become "too fragmented".
NHS London asked for the review after the death of the child in 2009 who received treatment at the Royal Marsden but critical care at St George's.
The review showed the partnership system between the hospitals was "not properly coordinated", NHS London said.
A number of areas "required attention and development", the report said.
But Dr Andy Mitchell, medical director of NHS London, who ordered the review by National Clinical Advisory Team (NCAT), now believes the services provided by both the hospitals are "safe" and said the decision to collaborate was "entirely logical".
'Lessons learnt'
The child died at St George's Hospital in December 2009 where he was admitted for febrile neutropenia.
The treatment of the child, who has not been named, was being looked after by both hospitals who entered into a partnership in 2006.
The Royal Marsden Hospital provided oncology services and radiotherapy for children with cancer while St George's provided critical care services.
The NCAT review said another incident at St George's in June 2010 was reported to it where "there appeared to be a failure to identify a febrile neutropenia and act appropriately in a timely fashion". That incident was non-fatal.
A statement from St George's Hospital said: "Following the Serious Untoward Incident in 2009 immediate action was taken to increase safety for our patients.
"A number of important lessons have been learnt since and significant investment has been made in staff training, specialist recruitment and development of our facilities to ensure that care in paediatric oncology meets national guidelines."
'Collaborate effectively'
The review, which looked at joint primary treatment centres, found children were treated in more than two sites - St George's and the Royal Marsden, and at times sent to Great Ormond Street Hospital and King's College Hospital.
The NCAT concluded: "Following recent clinical incidents, it has become clear that notwithstanding some considerable strengths in this collaboration there are a number of areas that are weak and require considerable attention and development."
It called for better joint governance framework, clear "clinical pathways" for families and staff to understand and to cut down on emergency transfers, joint nursing appointments and need for a lead nurse to ensure quality and strengthened out-of-hours medical cover.
Dr Andy Mitchell, medical director of NHS London, said: "I do see serious incidents crossing my desk, which when I analyse them reflect to me the fact that the system is not properly coordinated or integrated.
"Therefore we do run a system that to my mind are running at higher risk than it ought to.
"The aim of our review is to actually address that by asking organisations to collaborate in a much more effective way than they have done hitherto."
On its partnership with St George's Hospital in Tooting, the Royal Marsden Hospital said in a statement: "We are aware that some paediatricians feel that there is a need for co-location of paediatric intensive care unit with specialist children's services.
"However, one size does not fit all and the critical issue is that the Royal Marsden is able to demonstrate some of the best clinical outcomes and continuity of care between childhood and adolescence, through to adulthood."