What would Dickens make of the 'modern' malaise?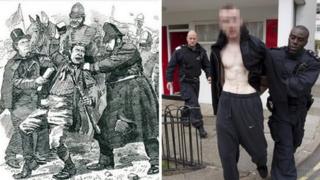 Rioting on the streets. A widening gap between rich and poor. Crises brewing in the City of London.
It sounds all too familiar - yet this is not the modern day metropolis.
Welcome instead to Dickensian London, with its cobbled alleyways and sooty street urchins threatening to burst into song at the slightest provocation.
Next year is the 200th year since Charles Dickens' birth, and to mark the anniversary two exhibitions are being held in the capital.
The BBC went behind the scenes to see preparations for both - and ask how much Dickens would have recognised the city that was his muse.
The answer, it appears, is quite a lot.
"Dickens would recognise very few of the buildings," said Alex Werner as he arranged display cabinets at the Museum of London. "He'd find it all a bit bewildering.
"But he would recognise a lot of the questions and issues which are still with us today.
"He is thought to have invented the term 'red tape' to describe government bureaucracy - and that's certainly still here in local government.
"He wrote about financial problems, immigration, poor education and poor housing - these are issues that might sound familiar to Londoners now."
Mr Werner is curating Dickens and London, which opens on 9 December.
And the oil paintings already on display certainly capture a Tale of Two Cities.
In gaily painted park scenes visitors will see the emerging middle class enjoying leisure time - a new fad in the 19th Century.
Beside them hang images of the slums: tattered and foul, the buildings hunched over a Thames lined with filth.
Yet would the contrast seem starker than that endured by a teenager on a deprived London estate?
"A lot of the problems haven't changed," Andrea Lloyd of the British Library said. "The poor are still getting poorer.
"I recently read Barnaby Rudge, which is about the Gordon Riots.
"Lots of young men went around vandalising buildings around London because they felt oppressed.
"I am not going to defend the recent rioters or make excuses for them - but it felt very relevant."
Ms Lloyd's free exhibition, focussing on Dickens and the supernatural, opens on 29 November.
Mr Werner said for some people London was "quite a frightening place" in Dickens's time and the megacity was at that time very much an "experiment".
"In this period London was the world's biggest city," he said.
"Dickens was constantly reminding his readership about the poor and that they should contribute to alleviate their hardship."
Jo, the character from Bleak House who scrimps and saves money to send to Africa despite having little of his own, is a strong example.
It provokes a debate that could have come straight from the modern Conservative right.
The last Tory conference saw heated argument over the ring-fenced foreign aid budget at a time of cutbacks to public services.
So what would Dickens have made of the protesters still defiantly camped outside St Paul's Cathedral to rail against cuts and corporate greed?
"He became quite wealthy so although he was radical in some areas he was not in favour of overthrowing the established order," Mr Werner said.
While Ms Lloyd, poring over one of his private letters, said: "He is such a complex man."
The handwriting is diminutive and spidery, and it appears the great writer would have benefited from the advent of lined paper.
"He is jovial and fun in some respects, and serious in others," she continued.
"I used to think Dickens might have been pompous - but now I don't think so.
"He was a control freak, definitely - but he had to be, to create entire worlds inside his head.
"And he tried to carry that into his normal life."
She pauses and chuckles. "That didn't always make him the nicest person to know. In fact he could be quite vile."