St Paul's protest: Eviction bid 'not made for banks'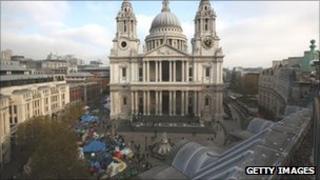 The legal bid to remove protesters from outside St Paul's Cathedral was not made in order to protect the banks, the High Court has heard.
Proceedings brought by the City of London Corporation were designed to "protect the rights and freedoms of others", counsel David Forsdick said.
The Corporation is trying to evict Occupy London Stock Exchange (OLSX) activists from outside the cathedral.
The four-day eviction hearing will begin on 19 December.
'Pressing social need'
The protesters were given until 18:00 GMT last Thursday to clear the "public highway" but tore down eviction notices from their tents, vowing to stay and fight a legal battle.
At the High Court, Mr Forsdick said the City was not bringing the claims to protect the banks, prevent peaceable protest against the financial sector or to stifle freedom of speech.
He said: "It is bringing these claims solely to remove the semi-permanent protest camp because, after very careful consideration, it has concluded it is necessary to do so."
Mr Forsdick said it was a pressing social need in order to protect the rights and freedoms of others.
"The City's position is: Peaceful protest? Of course, yes. Permanent encampment? No," he said.
OLSX supporter Ronan McNern said: "While the City focuses on a little piece of land, Occupy is concerned with creating a more just society.
"We say to the Corporation, it is time to talk about the real issues.
"Time to talk about the growing inequalities so evident in our society after the banking crisis."
Dozens of protesters packed the public gallery and the back of the courtroom as Mr Justice Wilkie announced the date of the hearing.
'Worrying trends'
The City of London Corporation, the local authority which runs the Square Mile, has expressed concern over "worrying trends" at the camp, including late-night drinking.
It also said businesses near the cathedral had complained takings had fallen by up to 35%.
Some tents are pitched on the footpath next to shops surrounding the cathedral, with the remainder in the churchyard itself.
Tents pitched on land belonging to the cathedral are exempt from the evictions.
The notices placed on tents said: "If any tents and other structures remain after 6pm on Thursday 17 November 2011, proceedings for possession and injunctions will be issued in the High Court of Justice without further notice.
"If granted, this would mean that you would be ordered by the High Court to remove the tents and any failure to do so could be a contempt of court."
Occupy London has said civic authorities "have not engaged in a transparent dialogue" with activists.