Bow Roundabout: Bike deaths prompt HGV review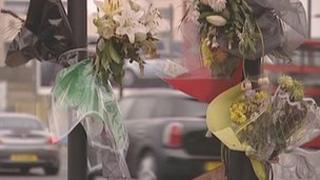 London's mayor has announced a review of construction industry HGVs being operated in London after two cyclists died at a roundabout in east London.
It will examine the design, operation and driving of skip lorries, tipper trucks and cement mixers in the city.
It follows a meeting with the family of Brian Dorling, who died in a collision with a lorry at the end of the cycling superhighway last month.
His widow had said more cyclists would die unless the junction was changed.
Improve safety
According to the mayor's office, HGVs operated by the construction industry have been involved in at least seven of the eight incidents this year which have led to the deaths of cyclists.
Mayor Boris Johnson said he felt "bitterly sorry" for the loss of any cyclist or road user and was determined to do everything possible to make roads safer.
Brian Dorling, 58, of Hounslow, west London, was killed on the Bow Roundabout on 24 October.
Svitlana Tereschenko, 34, of Bow, died on 11 November after a collision with a tipper truck.
Encourage cycling
Transport for London (TfL) has also launched a review of all major schemes planned on TfL's roads and all junctions on the cycle superhighways.
That review will look at all options to ensure the safety of cyclists, pedestrians and road users remains a priority.
The Bow superhighway is one of four created around London to encourage cycling and run towards the Olympic site in Stratford.
The lorry driver detained over Mr Dorling's death has been bailed until mid-January, the Met police said.
The driver arrested on suspicion of causing Ms Tereschenko's death by careless driving has been bailed until 7 December.