Plans to regenerate riot-hit Croydon announced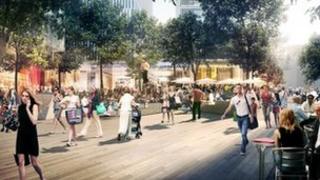 Plans to regenerate the centre of Croydon hit by violence during the August riots have been unveiled by officials.
The area is receiving £23m as part of a £70m regeneration fund allocated to the 14 boroughs worst affected by the disorder.
The money will be used around its railway stations, in the high street and for several pedestrian crossings.
The work needs to be approved by the local authority before work starts.
More welcoming
Croydon Council leader Mike Fisher said the money would help Croydon realise many of its "ambitions" after plans in the past that never got off the ground.
The government will contribute £20m to Croydon's fund, and City Hall will give £3m.
The Greater London Authority said key entrances to Croydon would be made more welcoming for pedestrians, including West Croydon and East Croydon stations.
The town's main north-south high street will be repaired at a cost of £7m.
Barriers will be removed to improve routes between key destinations, and the pedestrian crossings on roads including Landsdowne Road and Edridge Road will be improved.
A spokesman for the Greater London Authority said individual premises damaged in the riots were being repaired with money paid out by insurance companies and local authorities.
The violence flared across London and further afield after Mark Duggan, 29, was fatally shot by police in Tottenham on 4 August. In Croydon, Reeves Furniture showroom was set alight.
Other areas benefiting from funding in the wake of the riots include Camden, Ealing, Hackney, Greenwich and Tottenham.