Ken Livingstone to 'bring back zone 2 to 6 travelcard'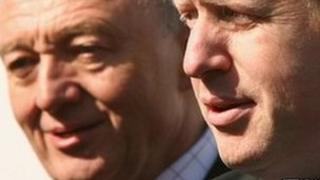 Former Mayor of London Ken Livingstone said he would re-introduce the zone 2-6 day travelcard, to replace the one scrapped by Boris Johnson, if elected.
Since January, people can buy either a zone 1-2, 1-4 or 1-6 day travelcard to use on London's transport.
Travel in zone 1 comes at a premium and the move meant a 74% hike at peak times, from £8.60 to £15.
The mayor's office said the old card was underused and more expensive than an Oyster card.
'Missing the point'
Mr Livingstone, who is Labour's candidate for the mayoral election next May, said his ZoneSaver card was about "righting a wrong" and ending a "stealth tax" on outer London.
He said: "Outer London has been hit particularly hard by decisions made by Boris Johnson. Fares have risen steeply under his watch."
A spokeswoman for the mayor of London said the zone 2-6 card was abolished because it was used for less than 0.2% of the 3.5 million journeys on the Tube every day.
She added: "It is far cheaper for Londoners to use Oyster pay-as-you-go. With outside zone 1 fares ranging from £1.30 to £2.50 using Oyster, a passenger needed to make seven peak-time outside zone 1 journeys to justify purchasing one of the zone 2-6 travel cards.
"Anyone advocating restoring the old cards totally misses the point as to why it was removed."