Metropolitan Police probed over 'Mark Duggan gun' incident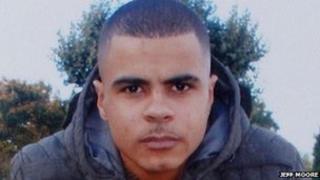 The police watchdog is to investigate whether a gun recovered from the scene of the police shooting of Mark Duggan, was used in a crime a week earlier.
Kevin Hutchinson Foster, 29, has been charged with possession of a firearm after allegedly assaulting a man in a hair salon in Hackney on 29 July.
Police believe the weapon used could be the same gun found at the shooting of Mr Duggan on 4 August.
The IPCC is investigating officers' response to the first incident.
The shooting of Mr Duggan prompted rioting in Tottenham, in north London.
These riots spread to other parts of London and beyond in August.
Two Scotland Yard officers have been placed on restricted duties while the Independent Police Complaints Commission (IPCC) investigates the "quality of the investigative response" to the first incident.
'Family informed'
IPCC commissioner Sarah Green said: "Our investigation will consider whether all investigative lines were promptly identified and acted upon by officers from the Metropolitan Police Service and to what extent, if any, the conduct of this investigation may have impacted on the supply of the firearm found at the scene of the shooting of Mark Duggan."
In relation to the incident in July, unemployed Mr Foster was charged on Wednesday with assault and possession of a BBM Bruni Mod 92 handgun with intent to cause fear of violence.
He will also appear at Waltham Forest Magistrates' Court next week charged with transferring or selling the firearm to another party.
Ms Green said: "We have informed Mr Duggan's family of the situation today and IPCC family liaison managers continue to be on hand to support Mr Duggan's family while investigations continue.
"As an individual has now been charged with offences in relation to that police investigation, we cannot provide any further information at this time."
'Voluntarily referred'
A Scotland Yard spokesman said: "The Metropolitan Police Service has reviewed the original investigation conducted by two officers from Hackney borough into the actual bodily harm and possession of a firearm with intent incident that took place on 29 July in Kingsland Road, Hackney.
"Due to concerns about the quality of the investigative response the MPS has voluntarily referred the investigation to the Independent Police Complaints Commission.
"They have informed us that they will conduct an independent investigation."
An inquest into Mr Duggan's death, which opened at North London Coroner's Court in High Barnet, heard the father-of-four died from a single gunshot wound to the chest.