Islington 'to adopt 20mph limit'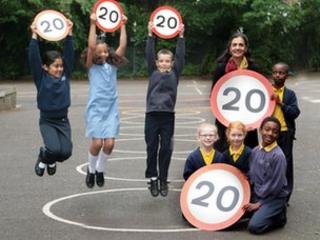 About 20 main roads in Islington, north London, are set to become 20mph zones next week, after two years of planning.
The cut from 30mph to 20mph is set to be agreed next week and will go to public consultation next year.
The council said the speed limit cut was aimed at reducing serious accidents involving pedestrians, cyclists and motorcyclists.
The Metropolitan Police said it would not increase patrols to enforce the limit, though.
It said 20mph zones were "designed to be 'self enforcing' through traffic calming measures such as speed humps".
'Considered advice'
The proposed speed cut will be presented to the council executive on 24 November, before next year's public consultation.
Councillor Paul Convery added: "We work very closely with the Metropolitan Police and have very carefully considered their advice.
"After long thought, we have decided to reject it and balanced the advice with the feelings of local residents and councillors, and the importance of safer streets for residents.
"We will work to improve awareness among motorists of the dangers of speed, to explain the reasons for keeping to 20mph in our community."
Residential streets in the borough are already 20mph zones and the new restrictions will cover main roads throughout Islington.
A Metropolitan Police spokesman said: "The Metropolitan Police (MPS) follows Association of Chief Police Officers (ACPO) and Department for Transport (DfT) guidelines and liaises closely with Islington borough over all 20mph zones.