Occupy London protesters take over empty bank office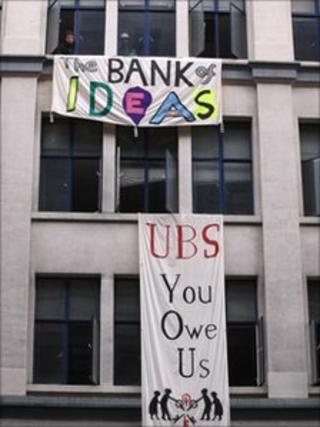 Occupy London Stock Exchange protesters have extended their action by taking over an empty office block in Hackney, east London, belonging to the bank UBS.
The deadline has passed for people camping outside St Paul's Cathedral to leave or face court action, but protesters remain at the site.
An Occupy London spokesman described the new move as "public repossession".
A UBS spokeswoman said: "We are aware of the situation and taking appropriate action."
Jack Holburn, a supporter of the campaign group, which is protesting against "capitalist greed", said: "As banks repossess families' homes, empty bank property needs to be repossessed by the public."
The protest group said a dozen activists gained access to the building and secured it on Thursday night, "giving them a legal claim on the space".
Occupy London said it was the group's third space and its first building, adding to its camps at St Paul's Churchyard, and at Finsbury Square, in the City of London.
The City of London Corporation said it had initiated court proceedings to remove the camp from a public highway around St Paul's Cathedral.
'Bank of Ideas'
The case will be taken up by the High Court on 23 November. The camp has been informed about the development, the corporation said.
Protesters said they planned to remain at the site and are ready for the court battle.
Mr Holburn said: "Whilst over 9,000 families were kicked out of their homes in the last three months for failing to keep up mortgage payments - mostly due to the recession caused by the banks - UBS and others financial giants are sitting on massive abandoned properties."
Occupy London said the space would be reopened on Saturday morning as the Bank of Ideas, with a programme of talks and comedy lined up.
Sarah Layler of Occupy London said: "The Bank of Ideas will host a full events programme where people will be able to trade in creativity rather than cash.
"We will also make space available for those that have lost their nurseries, community centres and youth clubs to savage government spending cuts."
The City of London Corporation had given protesters at St Paul's until 18:00 GMT on Thursday to clear the "public highway".
But an Occupy London spokeswoman said: "We're not planning on going anywhere."
A planned concert at the cathedral by the Italia Conti stage school has had to be cancelled because of the protest.
The school's principal, Anne Sheward, told the BBC the concert - due to take place on 2 December - could not be staged because of health and safety fears.
It was to have featured over 700 performers and a congregation of 2,000.
"We can't risk there being any intimidation or trouble. It's just too big a responsibility," she said
The concert will now be held at Westminster Central Hall.