London Assembly: 'Wave and pay for buses must be fair'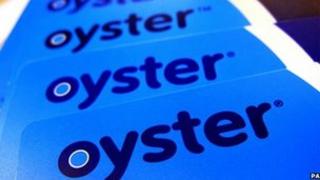 Customers without bank cards must not miss out on cheap fares when Transport for London introduces its new payment system, the London Assembly has warned.
A new "wave and pay" system will allow London bus passengers to pay by touching a contactless card - a bank card you can swipe - on readers.
The scheme, which will cost £75m, will be introduced on buses next spring.
TfL said a smartcard system - like the current Oyster card system - would remain available in some form.
Shashi Verma, TfL's director of customer experience, said: "Since not every visitor to London has an Oyster card, the additional option of contactless payments by debit and credit cards at Oyster card readers will enable every passenger the benefit of the cheapest fares, and swift, convenient travel."
Under the new "wave and pay" system, the cost of the journey will be debited directly from passengers' bank accounts.
TfL plans to extend the service to Tube, London Overground, DLR, tram and London National Rail services later next year.
Oyster cards will continue to be available but the transport operator expects contactless cards will be widely adopted over the next few years.
'Electronic pick-pocketing'
The London Assembly's transport committee, made up of Liberal Democrat, Labour, Conservative and Green party members, has made a number of recommendations.
The committee's main concern is that it believes the one in five people do not have a credit or debit card, may miss out on cheaper fares.
Assembly member Caroline Pidgeon, chair of the committee, said: "We want guarantees that all passengers will continue to have access to the cheapest fares no matter what type of ticket they use."
TfL said it expected to break even on its £75m investment in contactless payment technology within 12 years, and to make savings as Oyster card use is reduced.
Consumer watchdog Which? has recommended there should be some provision for people who may not have UK bank cards, including tourists.
It also wants assurances there will be protection against "electronic pick-pocketing", where card information could be captured by criminals and transferred to another device.
It has said personal information stored on cards should be limited and encrypted.
But it said it supported the roll-out of contactless cards to London's transport network in principle.
TfL said: "Ensuring payment methods are secure whether via contactless credit or debit card payment or Oyster is a priority for TfL and we are fully confident that our systems are safe and fully protect personal data."‪