Fortnum and Mason UK Uncut protesters found guilty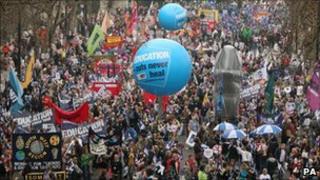 A group of protesters who occupied Fortnum and Mason during a demonstration in March have been found guilty of aggravated trespass.
A sit-in organised by campaign group UK Uncut was held at the luxury food store on Piccadilly, in London, in March.
Protesters organised the occupation on Twitter "as they believe the store is guilty of tax avoidance", the court heard.
Westminster Magistrates' Court found the 10 protesters guilty on Thursday.
Volleyball played
The protesters had peeled off from a large anti-cuts march when they targeted the store.
Megaphones were used and, having overwhelmed the police officers who were trying to keep them out of the store, protesters took over control of the store, the court was told.
Some of the protesters were masked and many carried placards and were handing out flyers, District Judge Michael Snow said.
Drums were beaten, horns were sounded and bagpipes were played, while protesters hung banners.
Volleyball was played across the displays while tents were erected.
Some goods were also stolen from the store during the occupation, while others were damaged.
'Chaotic scene'
The court heard lost sales as a result amounted to more than £54,000.
District Judge Snow said: "The scene inside the store was chaotic. Protesters were shouting and screaming at a very high volume."
Charges of aggravated trespass against 109 others accused of storming Fortnum and Mason were dropped earlier in the year.
The Crown Prosecution Service decided the prosecutions were not in the public interest.
Those convicted were: Euan Storrar, 24, of Dorking, Surrey; Sebastian Jones, 20, of Southampton; Daniel Lichman, 25, of Willesden; Oliver Pope, 20, of Southampton; Jake Colman, 22, of Pretoria Road, London; Adam Ramsey, 26, of Alyth, Perthshire; Edward Bauer, 23, of Fleet, Hampshire; Grainne Gannon, 29, of Shacklewell, north London; Oliver Rodker, 42, of Manchester; and Peter Speller, 26, of Oxford.