Sex crimes increase on London transport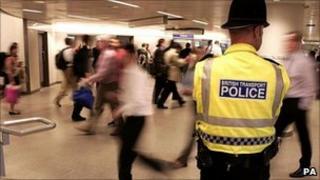 Crime on London's transport network has decreased according to figures released by Transport for London (TfL), but there was a rise in sexual offences.
The statistics showed a 7.9% reduction in crime for the period from April to September, compared with last year.
But sexual offences increased by 15.7% on the Underground and Docklands Light Railway (DLR) and by 8.8% on the capital's buses.
Robberies have increased on buses, and thefts rose on the Underground and DLR.
But the figures compiled by TfL, the Metropolitan Police and British Transport Police showed there were 1,122 fewer offences on buses over the first six months of this financial year compared with the same period last year - a 9.4% drop.
There were also fewer cases of violence and criminal damage.
Crime on the Tube and DLR fell by 272 offences, a 4.1% drop.
'Low-crime environment'
Overall, crime fell from 11.4 crimes per million passenger journeys to 10.5.
London Mayor Boris Johnson said he was pleased the measures put in place over the past three years seemed to be paying off.
But the police dealt with more sex crimes than last year.
There were an additional 25 sexual offences on the Underground and DLR and 20 more on the bus network.
Robberies also went up on buses, an increase of 233 or 19.8%. On the Tube and DLR there were six fewer robberies, a decrease of 8.7%, but theft of passenger property rose by 237 cases, an increase of 8%.
Steve Burton, TfL's director of community safety, enforcement and policing, said that while the figures showed overall the network was a low-crime environment, there was no room for complacency.
"Within the next six months we are deploying an additional 413 warranted police officers in the Safer Transport Command to provide Londoners with the safe network they expect," he said.
TfL added that despite increases in certain offences, the numbers were low in the context of the billions of journeys made on the system each year.