St Paul's Cathedral protest camp deadline passes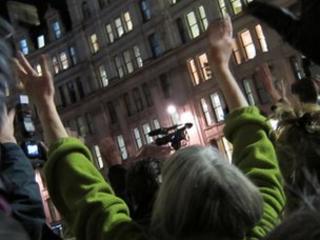 The deadline has passed for protesters camping outside St Paul's Cathedral to leave the area or face court action.
The City of London Corporation gave protesters until 18:00 GMT to clear the "public highway".
The camp's organisers marked the passing of the deadline with a "Silent Scream" - raising hands in silence for one minute.
Meanwhile, John Cooper QC, who is representing the protest camp pro bono, met protesters outside the cathedral.
The order only applies to public land - while territory owned by the church is not covered by the notice.
But some protesters said they were "not planning on going anywhere" and many notices have been ripped off the tents.
The corporation resumed action against the camp, which has been outside the cathedral for a month, after talks failed.
The eviction notice is addressed to "each and every person taking part in and/or having erected tents or other structures at St Paul's Cathedral".
'Not concerned'
If the protesters refuse to clear the area specified in the notice, the corporation said it would begin legal proceedings at the High Court to seek their eviction.
After the deadline passed, a City of London Corporation spokesman said: "We have been in talks with the protesters we have been yet to reach a suitable agreement.
"We therefore have decided with some regret that we need to resume legal action.
"The communication channels are still open but now in parallel with the court action."
Naomi Colvin, an Occupy London spokeswoman, said: "We're not planning on going anywhere soon and certainly not at the behest of the City of London Corporation.
"We're not remotely concerned about legal action.
"We are aware of our legal position, the likely time frame and we have a great legal team on board. Why would we possibly be worried?"
The Occupy movement has said its protest aimed to highlight the issues of inequality and corporate greed.
A statement from the Chapter of St Paul's said: "We recognise the local authority's statutory right to proceed with the action it has today.
"We remain committed to continuing and developing the agenda on some of the important issues raised by the protest."