Mark Duggan shooting: MP calls for officer's suspension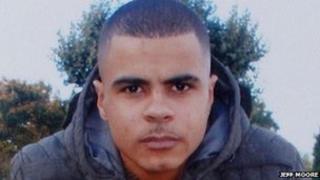 It is "incredible" the police officer under investigation over the fatal shooting of Mark Duggan has not been suspended, says an MP.
The shooting prompted rioting in Tottenham, which spread to other parts of London and beyond, in August.
Tottenham MP David Lammy said he wanted the Independent Police Complaints Commission (IPCC) to have the power to suspend officers in the future.
The police watchdog said an officer's employment was each force's decision.
The Metropolitan Police confirmed the officer has been placed on "restricted duties", in line with national guidelines.
Mr Duggan, 29, was killed by a firearms officer on 4 August after the minicab in which he was a passenger was apparently stopped by police near Tottenham Hale Tube station.
'Dangerous vacuum'
Three nights of violence, looting and fires followed in London, with cities such as Birmingham, Manchester and Salford also experiencing trouble.
Speaking on Tuesday in the House of Commons, at a debate about the riots, Labour MP Mr Lammy said: "The officer involved in the Mark Duggan case hasn't been suspended and is still working.
"He will understand that members of the community I represent find that quite incredible."
He also asked whether it would have been too difficult for the IPCC to notify residents, giving them "reassurance" and "appealing for calm and co-operation".
He claimed the absence of any word from the IPCC had created a "dangerous vacuum" where rumours were allowed to take hold instead of hard facts.
A spokeswoman for the IPCC said the commissioner responsible for the investigation had met with members of the community on 7 August.
She added the watchdog has met with community representatives at a number of events.
In July, the Home Secretary Theresa May announced the IPCC would work with the Metropolitan Police to identify further powers that they may need.