St Paul's protest: Corporation to resume legal action over camp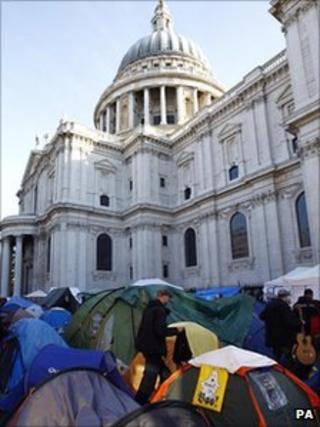 Legal action to clear the protest camp outside St Paul's Cathedral will resume after talks between the City of London Corporation and activists broke down.
Members of the Occupy London Stock Exchange (OLSX) group have been outside the cathedral since 15 October.
The camp will be handed a legal notice on Wednesday, the corporation said.
"We are disappointed that the City of London Corporation has decided to cut off the process of dialogue at their end," an OLSX spokesman said.
The protest aims to raise the issues of inequality and corporate greed.
Earlier this month, the corporation dropped its planned legal action giving protesters until the New Year to leave.
However, the corporation's planning and transportation committee has now voted to resume the legal action and lawyers representing protesters at the camp have been informed.
'Increasing mess'
"We paused legal action for two weeks for talks with those in the camp on how to shrink the extent of the tents and to set a departure date - but got nowhere," said Stuart Fraser, policy chairman of the corporation.
"So, sadly, now they have rejected a reasonable offer to let them stay until the New Year, it's got to be the courts.
"We'd still like to sort this without court action but from now on we will have to have any talks in parallel with court action - not instead."
The corporation said it also received complaints about "late-night drinking and other worrying trends, so it's time to act".
"Lawful protesters who stand or walk are a regular part of London," said Mr Fraser.
"But tents, equipment and now, increasingly, quite a lot of mess, is not what a highway is for and others are losing out."
Protesters are to be told they will have 24 hours to clear their tents and equipment after they are handed the legal notice on Wednesday.
The corporation said it would then approach the High Court to seek an order to evict the camp, if the protesters remain after the notice period.
If it is granted the court order, committee members will meet to take a decision on enforcement action, but reaching this stage could take weeks.
Protester Ronan McNern said: "Our beautiful camp has been a space for dialogue on these important issues.
"Now the City of London is trying to stop that dialogue from taking place."
On Monday night, seven people were charged with a number of offences following a protest at the Lord Mayor's Banquet.
About 30 protesters from OLSX gathered outside London's Guildhall where the new Lord Mayor of the City of London, David Wootton, held the annual event.
Police said five people were charged with breaching the Public Order Act, one man was charged with indecent behaviour at a police station and another man was accused of assaulting a police officer.
Embassy protest
All seven were bailed and will appear at City of London Magistrates' Court on 22 November.
A small group of activists from OLSX gathered outside the US Embassy, in Grosvenor Square, to show "solidarity" with campers evicted from a Wall Street protest in New York.
The group said in a statement: "Some politicians may physically remove us from public spaces — our spaces — and, physically, they may succeed. But we are engaged in a battle over ideas."
A spokeswoman for the embassy said officials met with some of the protesters to listen to their concerns about the evictions in New York.
A Metropolitan Police spokeswoman said "appropriate policing plans were in place" outside the US Embassy.
Marking its one-month anniversary at the camp, OLSX said it had received £23,000 in donations from supporters.
The Dean of St Paul's Cathedral, along with two other senior members, resigned following the establishment of the camp.