Student protest: Charlie Gilmour freed from jail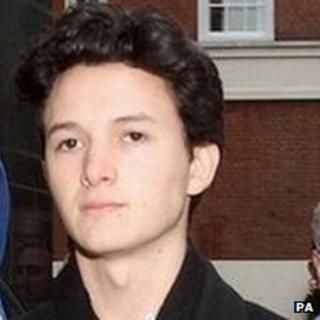 The son of Pink Floyd's David Gilmour has been freed, four months after he was jailed for violent disorder during a student fees protest in London.
Charlie Gilmour, of Billingshurst, West Sussex, was jailed for 16 months in July.
The Cambridge University student, who was seen swinging from a Cenotaph flag, had attacked a shop in Oxford Street and a car in a royal convoy.
His solicitor said he had been released with a tag.
Robert Brown, from Corker Binning solicitors, said: "Charlie Gilmour was released from HMP Wayland subject to him complying with a home detention curfew - commonly known as tagging.
"The curfew will continue until the halfway point of his 16-month sentence.
"This is standard procedure for prisoners who are serving a sentence of between three months and four years."
Gilmour had previously failed to get his jailed sentence reduced on appeal.
'Mob disorder'
The 21-year-old history student joined thousands of protesters in Trafalgar Square and Parliament Square, on 9 December last year, to demonstrate against an increase in university fees.
Rejecting his appeal, judge Lord Justice Hughes said Gilmour's offences were committed "in the course of serious disorder which occurred in the later stages of what had begun as a generally peaceful demonstration".
There was, he said, "serious mob disorder".
The judge said the violence demonstrated could normally only be dealt with by "significant sentences of immediate custody, even for those of otherwise good character".
A Cambridge University spokesman revealed it was not yet decided whether Gilmour would be allowed back.
He said: "No decision has been taken yet.
"If he were to be allowed back that would be a decision considered by the university, but he would not be allowed to return before October 2012."