Tube staff to be balloted over Boxing Day pay row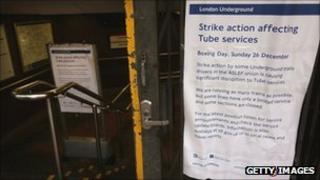 Tube drivers will vote on whether to go on strike in a row over Boxing Day pay on London Underground.
Aslef said its 2,200 members would be balloted after Tube bosses failed to agree on "adequate compensation" for working on an "unsociable day".
Drivers went on strike on Boxing Day last year demanding triple pay and a day off in lieu for working on the day.
London Underground said negotiations continued and the "threat of strike action will not achieve anything".
Fewer staff
The results of the ballot will be announced on 14 December, less than two weeks before Boxing Day.
Last year's strike disrupted Tube services across the capital on the first day of the post-Christmas sales.
The union had demanded triple pay and a day off in lieu for working on bank holidays.
An Aslef spokesman said: "The union's executive was told that negotiations with the company had failed to reach an agreement on the terms of Boxing Day working and it has now informed the company that it intends to ballot its members employed by LU for strike action.
"The union is seeking adequate compensation for members working on such an unsociable day."
Howard Collins, LU's chief operating officer, said: "It would be quite wrong for the Aslef leadership to ballot for strike action while we are engaged in continuing discussions on this issue.
"LU has a long-standing agreement with all of its trade unions which cover staff working arrangements on bank holidays, and Boxing Day is included in that agreement.
"However, we have shown good faith in reviewing Boxing Day services so that staffing requirements are lower than when Aslef raised this matter last year, and Aslef should do the same."