Row over plaque for stripper Phyllis Dixey on London flats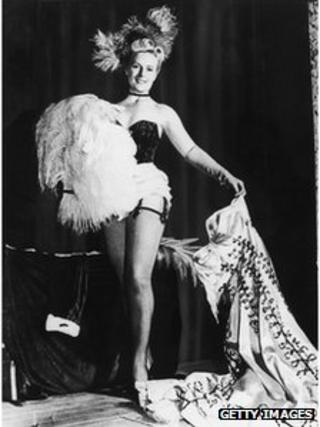 A plan to honour the first woman to perform a striptease in London has been thrown into doubt - because of a dispute over her description.
English Heritage wants Phyllis Dixey to be called a "striptease artiste" on the blue plaque.
But residents living in the south-west London flats which were once her home do not agree.
Dixey lived in St Marks Hill, Surbiton, in the 1930s before she became known as the "Queen of Striptease".
The two sides are now working with Dixey's family to approve the wording on the plaque.
An English Heritage spokeswoman said: "We felt the term 'striptease artiste' was the most appropriate and accurate for the performance that she did.
"She put the 'tease' into stripping and placed emphasis on the elegance of her act."
"Burlesque dancer" is among the alternatives suggested by the residents.
But the English Heritage spokeswoman said that to describe her as something else would be placing her "in the shadows of a profession of which she was a lead proponent and pioneer".
She added: "The residents have put forward various suggestions which capture what she did in sections but not in full."
She said it would be a "real shame" if a solution could not be found and the plaque does not get installed.
On Dixey's death in 1964, an obituary said "because of her natural dignity and refinement both on the stage and in private life, she played a leading part in making striptease into an acceptable entertainment".