East Dulwich shooting: Met probed over funeral gun death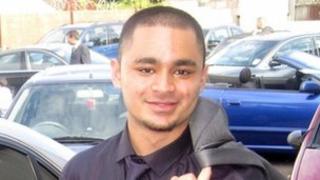 The Metropolitan (Met) Police is to be investigated over whether it could have prevented trouble at a funeral that resulted in a man being shot dead.
Azezur Khan, 21, was gunned down in East Dulwich, south-east London, on 3 November.
He had been attending the service for road crash victim Joel James Lee Morgan, 17, at a nearby cemetery.
Joel's mother requested a police presence at the funeral because she feared trouble, it has emerged.
It is understood that officers attended the earlier church service and the wake, but not the funeral service where the shootings broke out.
The Met made a voluntary referral to the Independent Police Complaints Commission (IPCC) "in relation to information received by them prior to the fatal shooting", the IPCC confirmed.
In a statement, IPCC commissioner Sarah Green said: "Following the tragic death of Azezur (Ronnie) Khan, who was shot and killed while attending a funeral in Forest Hill Road, south London, on 3 November 2011, the Metropolitan Police referred the matter to the IPCC.
"We have decided to conduct an independent investigation into the information held and actions taken by the police prior to the incident.
"Our thoughts are with Ronnie's family and friends at this difficult time."
'Gang members'
Several shots were fired shortly after mourners left the cemetery.
Mr Khan, known as Ronnie, was shot near the junction of Forest Hill Road and Rockells Place at about 1500 GMT.
He was pronounced dead at the scene, and a post-mortem examination gave the cause of death as a single gunshot wound to the abdomen.
A 17-year-old boy was taken to hospital after he was shot in the ankle.
At least 50 people attended the service, including both shooting victims, detectives said.
Two 17-year-old girls and two 20-year-old men who were arrested over the incident were bailed until late November.
Last week police said the boy whose funeral it was had "contact with gang members".
Det Supt Gordon Allison said: "From our point of view we were obviously aware that the funeral was taking place and contingencies were in place to manage anything that might have come out of that."
Appealing for witnesses, acting Det Ch Insp Brian Lucas said: "These criminals shot at innocent people in the street.
"It is vital that we find out who they are and stop them from causing further harm to innocent people and to our communities."