'Lord' Edward Davenport accomplices jailed over fraud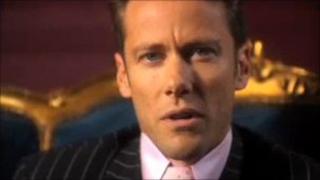 Three men who helped self-styled "Lord" Edward Davenport mastermind a multi-million-pound fraud have been jailed for their part in the scam.
David McHugh, 54, of Birch Avenue, Warrington, received three years and eight months for conspiracy to defraud.
Richard Stephens, 65, of Ennerdale road, Sheffield, received four years and two months for the same offence.
David Horsfall, 56, of Deanery road, Godalming, was jailed for 17 months for fraud by false representation.
All three men were sentenced at Southwark Crown Court.
Davenport, 45, of central London, was jailed in September, over an "advanced fee fraud" scheme.
He and his accomplice Peter Riley, 64, of Brentwood, Essex, each received a sentence of seven years and eight months for conspiracy to defraud.
'Substantial' harm
Davenport owns a mansion on Portland Place, central London, which was previously the Sierra Leone High Commission.
He set up Gresham Ltd in 2005, pretending it was a respectable firm with 50 years' experience of sourcing business loans.
The fraudsters made their money by fooling clients into paying tens of thousands of pounds for due diligence and deposit fees.
Across the world, businesses collapsed after entering into big deals on the false promise from Gresham
Following the sentencing of McHugh, Stephens and Horsfall, Judge Higgins said: "Not one penny was ever produced by the conspirators, who simply put the fees etc in their pockets.
"The harm done to the victims was substantial, including bankruptcy, unemployment and at least one personal breakdown."
Stephens, who changed his name from Richard Kirkup to avoid his criminal past, posed as a "surveyor" on behalf of Gresham and would visit proposed building sites and assess their viability, the court heard.
McHugh, who claimed he had a PhD, posed as a lawyer and accountant to coerce businesses into taking up loans with Gresham.
Since 2000 he has been convicted of 40 offences.
McHugh also produced false company accounts for the year ending September 30 2007 for a fee of £10,000, the court heard.
Davenport, claims to be a lord but he is not listed in Debrett's Peerage and Baronetage, which is a reference of the British aristocracy.
He plans to appeal against the conviction.