Occupy London: St Paul's Cathedral camp changes logo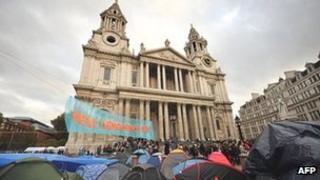 Protesters at St Paul's Cathedral have been forced to change the logo they used online because it was based on the famous London Underground sign.
Solicitors for Transport for London (TfL) told Occupy London it must stop adapting the blue-and-red Tube roundel.
This was because TfL was publicly-funded and "non-political", and could not be seen to endorse the campaign, they said.
Occupy London said it would comply "as a gesture of goodwill".
"We appreciate that, in these straitened times, public bodies need to safeguard income," said spokesman James Hughes.
"We trust that TfL management will be as understanding of the needs of ordinary commuters who have been continually facing rises in their transport costs."
TfL said it had written to Occupy London, "asking them to stop using the TfL roundel, which they have now done".
"While we do not wish to disrupt Occupy London's campaign, TfL's brands are iconic and valuable assets which help guide our customers, and we always seek to protect them," it added in a statement.
The activists at St Paul's say they are protesting against inequality and corporate greed.