East Dulwich shooting: Azezur Khan 'innocent bystander'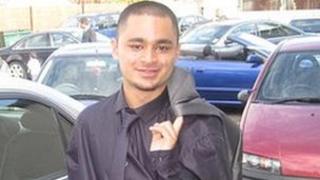 A man shot dead in south London a week ago appears to have been "an innocent bystander", Scotland Yard has said.
Azezur Khan, who was known as Ronnie, was killed on Forest Hill Road, East Dulwich, on 3 November but police have "no information" to suggest the 21-year-old was deliberately targeted.
A boy of 17 is in a stable condition in hospital after he was shot and wounded.
Both victims had just left the funeral of a 17-year-old boy, which took place at the nearby Camberwell Old Cemetery.
Two men are being sought over the attacks, one of whom was carrying a gun.
Several shots were fired at about 15:00 BST, with Mr Khan being hit in the abdomen and the teenager suffering an ankle wound.
'Devastating loss'
Police said local people had been "very helpful" in providing information.
But officers still want to talk to many of the young people who were in the area at the time, and mourners at the service for Joel Morgan, who had died in a car crash.
Two 17-year-old girls and two men aged 20 have been arrested over the shootings.
All have been bailed until later this month.
Acting Det Ch Insp Brian Lucas, of the Metropolitan Police, said: "Ronnie died in the street as a result of his injuries and his family have suffered a devastating loss.
"There does not appear to be any reason as to why Ronnie would have been shot and it appears he was just an innocent bystander.
"These criminals shot at innocent people in the street.
"It is vital that we find out who they are and stop them from causing further harm to innocent people and to our communities."