Met Police chief inspector sacked over sex and drugs boast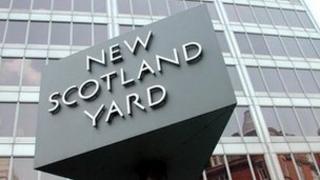 A Metropolitan Police chief inspector has been sacked after boasting on a dating website of committing a sexual offence and taking drugs.
He was also found to have used his position to advertise himself online to meet sexual partners while in uniform.
The officer was dismissed for gross misconduct after a two-day hearing.
The Met and the Independent Police Complaints Commission (IPCC) refused to name the 46-year-old officer, who was based in central London.
An earlier investigation of the chief inspector by Kent Police did not find enough evidence to press criminal charges.
The IPCC said he told website users he was a serving police officer who had committed crimes including drug-taking and a sexual offence.
He is the third Metropolitan Police officer to be sacked in a month.
A constable was dismissed for mishandling 999 calls, while a sergeant was fired after he indecently assaulted a "vulnerable" teenager while on duty.
'Authority and trust'
The chief inspector was originally arrested by Kent Police last year and an internal Met investigation was launched.
At this point he had his duties restricted.
When Kent Police decided it was not proceeding with criminal charges, an internal disciplinary hearing was arranged, and this found he had committed gross misconduct.
IPCC commissioner Mike Franklin said: "Police officers, by virtue of the powers vested in them, hold positions of authority and trust in our communities.
"Those who discredit their role cannot expect to continue to serve the public and, as in this case, they should be dismissed."
Commander Peter Spindler, Scotland Yard's director of professional standards, said: "Officers and staff may believe that what they do online, whether on-duty or off-duty, is either anonymous or doesn't have any impact on others.
"We expect our employees to behave professionally, morally, ethically and with the utmost humility and integrity in all areas of their lives.
"Anything short of this will not be tolerated."