Islington flats double shooting: Men 'killed in debt row'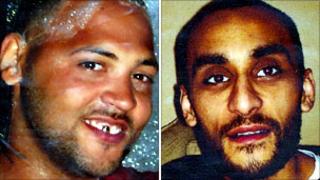 Two men were shot dead in north London over £3,000 that was owed to one of the pair, the Old Bailey heard.
Two gunmen fired at Jayson Hassan, 28, and Lee Wallace, 25, outside a block of flats in Islington in January.
Daniel Wilson, 28, of no fixed address, his uncle Wayne Wilson, 42, of Preston, Lancashire, and Rodney Morrison, 43, of no fixed address, deny the murders.
Daniel Wilson used to sell drugs for Mr Hassan and had fallen out with him over the debt, the jury heard.
Mr Hassan had made death threats to Daniel Wilson through text messages over the debt and had also held a knife to the defendant's girlfriend's throat to find out his whereabouts, the court heard.
Daniel Wilson also hid guns for Mr Hassan and he and his uncle had arranged to meet him on the night of the shooting to return the weapons. Mr Morrison drove them to the meeting, the court was told.
'Very dangerous game'
The men were found outside Strang House on Britannia Row on 9 November last year.
Mr Wallace was shot in the lower back and the bullet then pierced his heart. He died at the scene.
Mr Hassan was shot once in the left arm, once in the back and twice in the back of the head. He died in hospital.
They were shot as they ran to take cover.
Crispin Aylett QC, for prosecution, said: "In dealing in drugs and hiding guns for Jayson Hassan, you may think that Daniel Wilson was playing a very dangerous game.
"Because it is not uncommon for people who supply drugs and look after guns for each other to fall out, and when they do they can't go to the police to resolve their differences: instead they have to solve their dispute in their own way."
Mr Aylett told the court that "Daniel Wilson decided to return these guns in such a way as to mean that Jayson Hassan would never bother him again".
The trial continues.