Westfield mulls Croydon Whitgift shopping centre move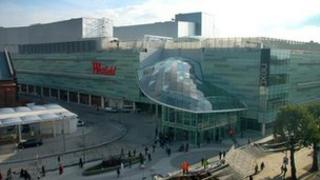 The company behind two huge shopping centres in east and west London has begun negotiations over a third complex in the south of the city.
The Australian developer Westfield said it was holding talks with the charity which owns the Whitgift in Croydon.
It is considering a revamp of the mall, which was built more than 40 years ago.
The company opened its latest centre in Stratford, beside the Olympic Park, in September, three years after unveiling a mall in Shepherd's Bush.
Croydon was a "strategic location" which could bring millions of people to a part of London "under-served by high-quality retail and leisure facilities", Westfield said in a statement to the Australian Stock Exchange.
London's mayor Boris Johnson said the area had "huge potential".
"Westfield is already defying the economic downturn in east and west, and I am delighted they are now looking south," he added in a statement.
Croydon is sharing £20m of funding from City Hall with Tottenham, under a scheme set up to help the two areas after the riots in August.
Plans have also been drawn up to revamp the centre of Croydon over the next few years, including the area around the Whitgift, which is 1.2m sq ft (111,484 sq m) in size.