London 2012 apology over airbrushed HMS Belfast poster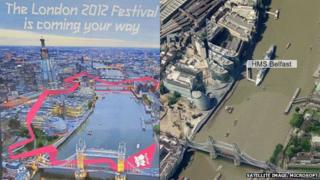 London 2012 organisers have apologised for airbrushing the historic World War II ship HMS Belfast from an official poster depicting the capital's skyline.
Games organisers said it was "a simple mistake in the advertising production process" for London 2012 Festival.
The ship served in both World War II and the Korean War and has been moored near Tower Bridge since 1971.
Martyn Heighton, from National Historic Ships, said it was like "airbrushing out the Houses of Parliament".
'Barmy' decision
HMS Belfast, which played a role in D-Day, the Arctic convoys and the sinking of the Scharnhorst, was built in 1936 and about eight million visitors have boarded the ship since it was moored in London 40 years ago.
The ship was missing from an aerial photograph of the River Thames, which showed Tower Bridge.
Mr Heighton said: "It is astonishing. HMS Belfast is the largest vessel in the national historic fleet of the 200 most important vessels in the UK.
"I find it startling because it shows very little thought for how that ship could be part of the celebrations around the Olympics".
Andy Smith, chief executive of the UK National Defence Association, described the decision of the designers as "barmy".
He said: "If you are altering images of the skyline of London you cannot just take out anything which has military connections.
"It is absolute nonsense. HMS Belfast is a permanent fixture on the River Thames and a major part of our military heritage.
"It is an insult to those who have served this country over the generations and who are serving on this Poppy Day. It is extraordinarily insensitive."
A London 2012 spokesman said: "HMS Belfast was unfortunately excluded from one of the seven adverts for the London 2012 Festival.
"We are very sorry about this - it was a simple mistake in the advertising production process, and we apologise if this mistake has caused offence.
"The mistake has been rectified and posters without HMS Belfast in are being removed."