Stolen Carshalton war memorial plaques replaced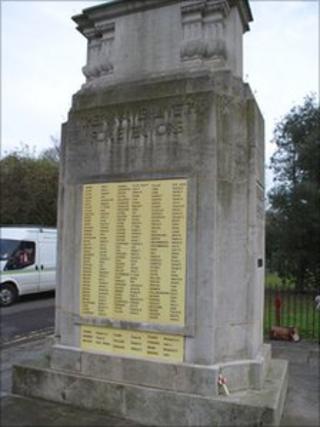 Temporary tablets have been put in place at a war memorial in south London to replace stolen brass plaques.
Fourteen metal plaques bearing the names of 243 World War I servicemen were stolen from Carshalton war memorial in Sutton in September.
The temporary plastic tablets have been painted to look like the stolen bronze plaques and contain all 243 names.
The replacement which comes ahead of Remembrance Sunday has been welcomed by the families of some of the soldiers.
Sutton Council said it had commissioned new tablets carved from Portland stone to replace the original plaques, but they will not be completed until mid-December.
Family 'devastated'
The war memorial in Carshalton was unveiled in 1921 and is a smaller-scale version of the Cenotaph in Whitehall.
Sue Ealing, whose grandfather L/Cpl Ernest Baker died in a gas attack at Ypres in 1918 and was commemorated on the plaque, said the theft had devastated her family.
She said: "My father is devastated - he and my aunt laid wreaths on the memorial when it was first unveiled and as a young man he played the Last Post on the bugle at remembrance services there.
"Coming so close to Remembrance Sunday makes the desecration even worse, so I'm really glad that new plaques have gone up so quickly to allow people to pay their respects."
Councillor Graham Tope, executive member for community safety, leisure and libraries on the council, said: "It's deeply shocking to think of the plaques commemorating these brave men being sold off for just a few pounds - but coming at this time of year makes it even worse."
A £3,000 reward has been offered for information leading to the arrest and conviction of those responsible for the theft.
The council, which is calling for a change in the laws regulating the scrap metal trade, said it would be marking its war memorials with SmartWater in an attempt to deter metal thieves, as the liquid shows up under UV light.