Met Police deputy commissioner Tim Godwin retires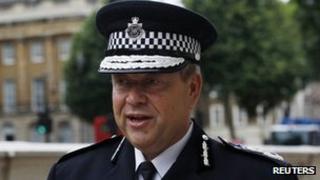 The officer in charge of Scotland Yard during the riots in London in August has announced he is to leave the police after more than 30 years of service.
Tim Godwin, the deputy commissioner of the Metropolitan Police (Met), has accepted a new job in the private sector and will depart in the New Year.
He was acting commissioner after the resignation of Sir Paul Stephenson, who came under pressure over his force's handling of the phone-hacking scandal.
He joined the Met from Sussex Police.
The Mayor of London Boris Johnson said: "Tim Godwin has been a devoted public servant, constantly striving to make London a safer and better city.
"His commitment, calm and professionalism are an example to all.
"I will always be grateful to him for his advice and action, not least last summer when his faith in commonsense traditional British policing was vindicated, the streets reclaimed and public confidence restored."
'Best of generation'
Mr Godwin was one of four candidates interviewed earlier in the year for the job of Met Commissioner, but was beaten to the top job by Bernard Hogan-Howe.
Mr Hogan-Howe said: "Tim Godwin is an exceptional police officer - one of the best of his generation.
"He has successfully led the Metropolitan Police over the last year through some exceptional challenges.
"I am personally sorry to lose the deputy commissioner - a man of integrity, intellect and humility."
Commissioner Hogan-Howe added: "I know the officers and staff of the Metropolitan Police will lose a man they love a great deal."