Wembley Stadium auction: Sotheby's sells original gates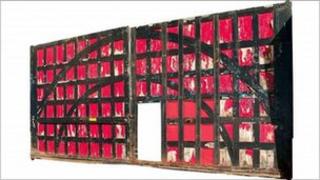 Two timber gates dating back to 1923 from the original Wembley Stadium have fetched £5,875 at auction.
Teams were driven into the north-west London ground through the 16ft by 16ft (5m by 5m) Royal Tunnel Gates during the 1948 London Olympics.
A round window from the stadium's twin towers and lights from the royal box were among the nine lots on offer.
Architectural charity The Brooking Trust sold the items at the auction at Sotheby's in New Bond Street in London.
The Trust had expected the gates to fetch between £5,000 and £10,000 at the auction.
The charity, which made available doors, windows and wall panels from the royal retiring room, acquired the items after the stadium closed in October 2000.
The window was sold for £1,175, while a door panel raised £2,350.
The twin towers were demolished in 2003 and the new Wembley Stadium opened in 2007.
In the same auction, a programme for the 1901 FA Cup final, between Tottenham Hotspur and Sheffield United, sold for £10,000.