London 2012: River Park floating on Thames is delayed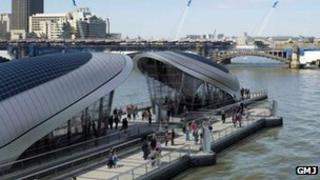 A floating pier proposed for the Thames in central London has been delayed and will now not be built before the Diamond Jubilee next June.
The River Park, which is to stretch for 1km (0.6 miles) from the Millennium Bridge to Custom House Access Bridge, was hailed as an "amazing and unique attraction" by Mayor Boris Johnson.
But its layout and its impact on the river had been criticised.
City of London planners had been due to discuss the scheme next month.
Last month the Commission for Architecture and the Built Environment, a government advisory body, said the platform needed "further thought".
The design, with concrete seats and large trees in containers, may not be "appropriate to the character of the river", it said.
'Remarkable vision'
The Port of London Authority said the developer's own risk-assessment pointed out that the platform could be "hit by barges".
The chief executive of the nearby Shakespeare's Globe Theatre called the scheme "exciting" in principle but was concerned about "noise pollution" at venue.
And the organisers of the 1,000-boat flotilla on 3 June, as part of the Queen's Diamond Jubilee Celebrations, feared the pier would affect the tide of the Thames and might pose hazards to vessels.
"We are working with the Corporation of London and the Port of London Authority, who have asked us to carry on with our programme of testing in order to address some concerns they have raised," said a London River Park spokesman.
"We remain fully committed to delivering this remarkable vision for the London River Park, which has the overwhelming backing of Londoners."
But Darren Johnson, a Green Party member of the London Assembly, said it was "surprising that the mayor of London was able to announce earlier this year that a kilometre-long Thames walkway would be delivered in time for the Olympics, when the mayor and other bodies are still seeking clarification over basic safety considerations".