Royal Artillery Memorial repaired for Armistice Day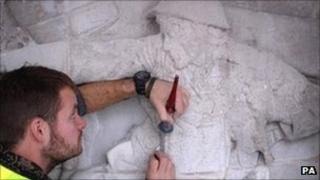 A memorial in London's Hyde Park Corner dedicated to the soldiers who died in World War I has been repaired for Armistice Day commemorations.
The Royal Artillery Memorial remembers 49,076 men of the Royal Regiment of Artillery who were killed in the war.
English Heritage carried out repairs and cleaning after pollution, algae and rain water caused cracks in the joints of the stone and bronze sculpture.
The memorial, designed by Charles Sargeant Jagger, was erected in 1925.
The sculpture features a cannon upon a plinth and depicts scenes from the war - three bronze statues of gunners standing and one dead, with his body under a cape and helmet.
Simon Thurley, chief executive of English Heritage, said: "It is vital that we protect and care for these monuments.
"The Royal Artillery Memorial is not only one of the great war memorials but a great work of art."