Double-decker bus pulled for a mile for Veterans Aid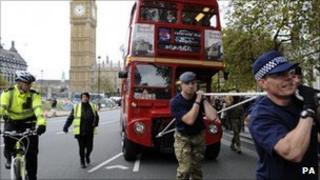 A double-decker bus full of passengers has been pulled for a mile in London by a team of police officers and members of the Armed Forces for charity.
The 20-strong team hauled the 15-ton bus from the Cenotaph in Westminster and finished at Grosvenor Gardens in Victoria, in support of Veterans Aid.
They were joined by the Epping Forest Pipe Band who played music as they walked ahead of the bus.
The team hope to raise a total of £6,000.
Sgt Dave Johns, of the Waltham Forest Police safer transport team, who helped heave the bus, said: "It was physically quite demanding, you can feel the rope pushing down on your shoulder.
"There must have been about 60 people onboard. More than anything we wanted to bring attention to Veterans Aid. It's a great cause."
Folk duo Northfield pledged to give all profits from their latest single, Make it Happen, to the charity and band member PC James Fitzgerald helped pull the bus.
Dr Hugh Milroy, chief executive of Veterans Aid, said: "It's truly stunning and very humbling.
"Our work with homeless veterans is helped by an excellent working relationship with the Metropolitan Police and the ethos of people who wear, or have worn, a uniform standing by one another is what we are all about."