London riots: More than 3,000 arrested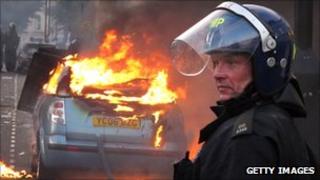 More than 3,000 people have been arrested in connection with the widespread rioting and looting in London in August.
Of the 3,003 held, 1,931 have been charged or cautioned, the Metropolitan Police (Met) said.
The new figures show 1,809 people have appeared in court. So far, 618 have been sentenced with 255 jailed.
The Met has also released 71 images of people jailed with sentences totalling 100 years.
The most common offence people have been charged with is burglary (838) followed by violent offences, with 326 being charged with crimes such as violent disorder and affray.
Commander Steve Rodhouse, who is in charge of the investigation codenamed Operation Withern, said: "This is an important milestone for the investigation but our work is far from over."
He added: "My message to those who were involved in the disorder and criminality is that you will not get away with it.
"We have a huge team of dedicated officers working on this investigation and we will find you. There will be more arrests and convictions."