Plea to call off Miss World feminist protest in London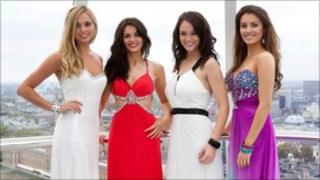 A former beauty queen has urged feminists to call off a planned demonstration at the Miss World final.
Groups including London Feminist Network, Object and UK Feminista plan to protest at the contest at Earl's Court on Sunday.
A statement on the London Feminist Network website said the competition has "no place in London in 2011".
But Miss England 2008 winner Laura Coleman urged protesters not to attend, arguing that pageants "empower" women.
The 60th Miss World final will bring together contestants from 122 countries, back in the city where it all began.
It started in 1951 during the Festival of Britain on the Southbank.
But a statement on the London Feminist Network website said: "Forty years ago feminists disrupted this sexist contest in a spectacular fashion, with chants of, 'we're not beautiful, we're not ugly, we're angry'.
"Let the organisers and all those profiting from the event know that we are all angry that such an event is once again being held here in London, 40 years later.
"Bring placards, banners and raise your voice against this appalling offence against women's equality. Let them know loud and clear that this event has no place in London in 2011."
However, Ms Coleman said: "Appreciating beauty should not cause anger. Women enter beauty pageants at their own will, they are not forced into it.
"I don't understand why feminists think it is degrading, as pageants are actually empowering women. Pageants give the girls confidence and give them opportunities they may not otherwise have had, and I can speak from experience."
The winner of Miss World will spend a year visiting and supporting a range of global charity projects supported by Miss World's Beauty With A Purpose programme.