New Thames sewer plans puts 'trees before people'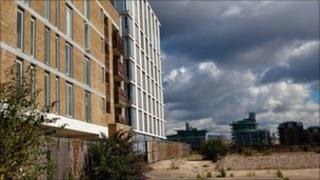 Campaigners say they are "outraged" by plans to move construction sites for a new "super sewer" from greenfield sites to land near homes and schools.
New plans mean Barn Elms Playing Fields in Barnes and King's Stairs Gardens, in Rotherhithe, will not be dug up.
The firm has instead proposed Carnwath Road Riverside, Fulham, Kirtling Street, Battersea, and Chambers Wharf, Bermondsey, as "preferred sites".
Residents in Fulham and Bermondsey said the plan "puts trees before people".
'No easy choices'
Backing campaign groups Residents Against the Sewer in Fulham (RATSF) and Peterborough Road & Area Residents Association (PRARA), Hammersmith and Fulham Council said the new sites would "blight the lives of thousands".
Save Your Riverside Action Group said people living next to the Chambers Wharf site would face disruptions for years.
But Stop the Shaft campaign, which fought to save Barn Elms Playing Fields in Barnes, south-west London, said their 16,500-strong voice had been heard.
Thames Water said the cost of building the 20-mile long sewer had gone up from £3.6bn to £4.1bn as a result of its new plan to use brownfield sites and river transport to move the excavated soil.
Three main shaft sites are needed for the machines which will dig the 7.2m diameter wide 'super sewer' under the ground, which will follow the river bed from Acton to Abbey Mills.
The sewer would stop 39 million tonnes of raw sewage leaking into the River Thames every year, the company said.
The second phase of public consultation, including on the new sites, opened on Friday.
Phil Stride, head of London Tideway Tunnels at Thames Water, said: "There are no easy choices when it comes to selecting construction sites, but our focus during this latest phase of consultation will be to work with communities around our revised list of preferred sites to ensure we understand and address their concerns effectively."
Sands End area in south Fulham is home to about 1,000 families and five schools.
Peterborough Road resident Ann Rosenberg Bell, speaking on behalf of RATSF and PRARA, said: "We are outraged that Thames Water appear to have come to a cynical, politically-motivated decision which puts trees before people."
Hammersmith and Fulham Council's leader Stephen Greenhalgh said: "Blighting the lives of thousands of Fulham residents, threatening homes, jobs and local schools - not to mention the disruption on our roads - for six years is outrageous."
'Huge relief'
Save Your Riverside group said turning Chambers Wharf into a construction site will pose "very real" health risks.
The group said: "This means a minimum of seven years of misery and very real health and safety risks for the thousand children attending any of the two schools directly adjacent; whilst those attending the other two schools that are on site access routes will also be affected.
"Residents living in any of the 150 directly adjacent flats also face sleep deprivation whilst works go on 24 hours a day, 7 days a week for three years out of the seven."
But the news of plans to save Barn Elms Playing Fields was welcomed by Stop the Shaft campaign which received the backing of Wandsworth and Richmond Councils.
Sian Baxter, from the group, said: "The proposal to protect one natural habitat, at the expense of another, was always nonsensical".
Wandsworth Council said the decision to use semi-derelict industrial land was a "huge relief".
Mr Stride said the decision to use the river to transport materials contributed to the rise in the cost of the project.
Customers could now see up to £80 added to their bills, but not before 2013, the firm said.