Mayor told to 'get a grip' on London Underground closures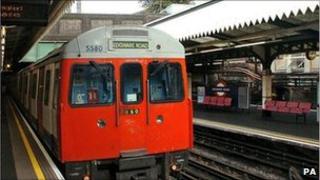 The London Labour group has told mayor Boris Johnson to "get a grip" on the Underground (LU) after a number of closures were revealed for the run-up to Christmas.
Every weekend in November, at least six lines will be at least partially closed for engineering and maintenance work.
Between Boxing Day and New Year's Eve, only three Tube lines will be unaffected by closures.
LU said the works were essential and the closures "regrettably unavoidable".
The London Labour group's transport spokeswoman Val Shawcross said: "It's essential to the economy that London keeps moving, both in the run-up to, and during the festive period.
"With scheduled works such as those to the Jubilee Line now well over target and weekend engineering works frequently over-running, the mayor must urgently get a grip on these plans - ensuring that every single hour closed for works is being used to maximum effect."
An LU spokesman said: "The facts are that essential improvements to the Tube are needed to keep it running well, to improve reliability and to increase capacity in order to carry record passenger numbers.
"We are working flat out every night in the few hours the system is closed to keep passenger inconvenience to an absolute minimum.
"But some weekend closures, mostly of small sections of track, are regrettably unavoidable."