Theresa May says St Paul's protesters should leave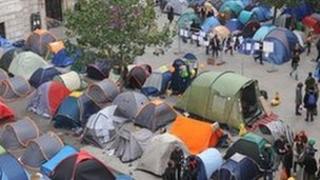 Home Secretary Theresa May has said the protesters camping outside St Paul's Cathedral should leave.
She told BBC One's Question Time programme that St Paul's was an important site for the image of the UK.
But Shadow Chancellor Ed Balls said: "You can't dismiss this. These are real concerns of communities up and down our country."
The activists, who have been at the site since 15 October, are protesting against inequality and corporate greed.
Speaking on the programme on Thursday night, Mrs May said: "Personally, yes, I would like to see them go.
"St Paul's is a very important site. What we're looking at is an image of the UK.
"I think it's important that people coming to the UK are able to visit sites like that and they're able to go on operating."
'Starbucks coffee'
Mr Balls told the programme: "It's good the Church is discussing with the protesters how to do this in a negotiated and peaceful way.
"Politics has got to rise to a better level and say 'we're going to make this system work'."
During the debate, the home secretary's characterisation of the protesters was challenged by other members of the panel.
She said: "These are anti-capitalist protesters but we have seen photos of them drinking their Starbucks coffee and using their Mac computers."
But poet Benjamin Zephaniah questioned her comments, saying: "You really feel you cannot be an anti-capitalist protester and have a cup of coffee?
And Mr Balls told Mrs May: "You can't dismiss these as a bunch of middle-class coffee drinkers.
"The idea if you say 'I'm going to protest, therefore I'm anti-capitalist, anti-Starbucks and should be delegitimised' - what a load of nonsense."
Earlier this week, the Corporation of London abandoned plans to take legal action to try to force the 200 or so protesters to leave.
In what was described as a "great U-turn" by the Occupy London Stock Exchange (OLSX) group, the corporation made an offer to allow the protesters to stay until 2012.
The corporation said it was looking to avoid legal action and had urged the protesters to "shrink" the size of the camp to enable it to clear the public highway.
Cathedral authorities have invited the activists to take part in negotiations to try to end the demonstration.
The OLSX campaign said the corporation's offer would lead to it leaving St Paul's on an agreed date in 2012.